Student's Service Committee-SSC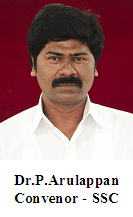 Bringing out the hidden potential of youth in every sphere is very important in present day context. Being a college student, moulding one's character involves utilizing their potential in a useful way which is the one of the foremost duty of every academic institution. The American College has a very powerful tradition of bringing out such talents of its students for over many decades.
We are happy to present the activities of Student's Services Committee through its network of activities which interconnects every talented student of our college across the departments. The SSC has conducted and involved students in many programs to enrich and elicit various talents.
Student's Service Committee-Programs
Student's Service Committee-Achievements
Contact:
Dr.P.Arulappan (Convenor),Students services committee
Email: Arulappan70@gmail.com; Mobile:9486226370